Boat & Watersport Rentals
Rental Terms
RENTAL DAY is from 9 a.m.to 6 p.m. M-Sat,Sun 5p.m.
Rentals are launched/returned at Narrows Landing
No refund for early returns
All Rentals are by the DAY or WEEK Rate.

WE DO NOT PRO-RATE WEEKLY RATES.

We are not responsible for weather conditions. If bad weather prevails, you may reschedule for another day.

RESERVATION DEPOSIT

is required at time of reservation.  Deposits can be held with an open credit card or $100 check.  Cancelations must be made 14 days in advance to rental date for a refund less $100 processing fee. NOTE: $100 processing fee for all cancellations and "no shows".
Pets: $50.00 non-refundable pet Fee
Cleaning Fee $100 will be assessed at our disgression upon rental return
Must be 21 years of age to rent equipment (ID required)
OPEN CREDIT CARD DAMAGE DEPOSIT, is required in addition to the rental deposit. Renter is responsible for any damages to boat, motor(s), props, other equipment and accessories rented.
Gas & oil are not included in rates
Boats must be returned with full gas & oil.

NOTE: Premium gasoline (non-ethanol) 87-91 Octane ONLY!

State & County sales tax not included in rates
We are not responsible for weather conditions.
Visit Long Lake Bait Shop
Contact Information and Driving Directions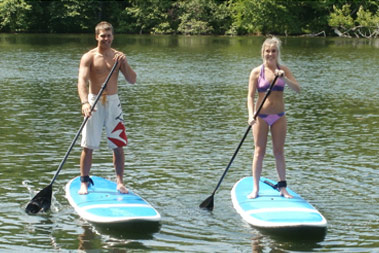 Anyone (resident or non-resident) who is at least 16 years old born AFTER December 31, 1988 that will be operating a motorboat or personal watercraft (PWC) rental, or privately owned is required to take the Wisconsin Boat Rental Course or Wisconsin Boater Education Course and carry the certificate with them at all times while operating the vessel on the water. Below are the sites to get certified and print your certificates:
SUMMER Rental Rates

½ day (up to 4 hrs)

Day (over 4 hrs)

Week (up to 7 days)

 

Pontoon Boats

24' – 16 passenger 2007 Harris
$ 175.00
$ 250.00
$ 800.00
     (90 HP 4-Stroke Yamaha,/Bimini Top/Stereo/Swim Ladder)
20' - 10 Passenger 2012 Manitou
$150.00
$200.00
$700.00
     (40 HP 4-stroke Mercury Big Foot outboard/Fishfinder/Live well/4-swivel seats/Stereo/Swim ladder/Bimini Top)
22' - 11 passenger 2016 Misty Harbor
$175.00
$250.00
$800.00
     (60 HP Suzuki 4-stroke outboard, Bimini Top, Swim Ladder, Stereo/Live Well/ Fish-Depth Locator/4 Swivel Seats)
 

Canoe

Canoe
$ 25.00
$ 45.00
$135.00
 

Kayaks

8' (up to 150 lbs)
$ 20.00
$ 35.00
$ 100.00
10' (up to 300 lbs)
$ 20.00
$ 35.00
$ 100.00
2-Person Kayak
$ 45.00
$ 60.00
$ 175.00
 

Pedal Boat

3-person Pedal Boat
$ 20.00
$ 35.00
$125.00
 

SUP's (Stand-Up Paddleboards)

12' (up to 300 lbs)
$ 25.00
$ 40.00
$175.00
 

Watersport Equipment

6' X 18' Floating Lake Mat
50.00
75.00
150.00
3-4 person Inflatable Tube
$ 20.00
$ 30.00
$50.00
1-2 person Inflatable Tube
$ 10.00
$ 20.00
$35.00
Ropes or Tow Harness
$ 3.00
$ 5.00
$ 10.00
Life Vests
$ 5.00
$ 8.00
$ 20.00